Have you ever thought about learning to play a musical instrument, perhaps Celtic fiddle?
I was just doing some research on the internet around this.
Some of the findings took my breath away!
Book your TUNE-UP Consult Session Here: https://bit.ly/2NH3wOq
YOUNGER STUDENTS
A 2016 study by Dr Susan Hallam,  Professor of Education and Music Psychology at the Institute of Education and Kevin Rogers, of Hampshire Music Service showed that young people who play a musical instrument enjoy greater progress and better academic outcomes than those who do not. The greatest impact is for those who play the longest.
Holy Smoke! Can you believe that!
So the longer a student plays a musical instrument, the better the academic progress.
What if the playing of the musical instrument can continue as the student gets older?
MY OWN EXPERIENCE
I thought about this question and my own experience of playing violin at University.
During my time at Edinburgh University, I auditioned for the University Orchestra three years in a row.
Priority for places in the orchestra was given to music students.
AND rightly so!
These students were going to make a career out of music.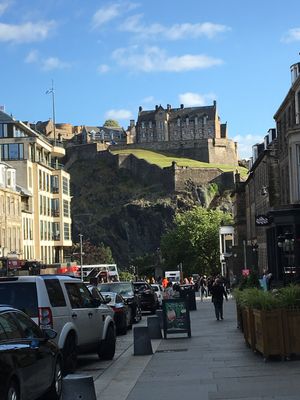 WHAT DID I DO NEXT?
Rather than join another classical orchestra and in order to keep playing the violin, I started going along to the Edinburgh Highland Reel and Strathspey, an orchestra which played Scottish music.
This kept the violin playing going whilst I was studying Economics and Accounting at the University.
The violin playing was for recreational purposes.
ANOTHER INSIGHT
And today, I read something very interesting from Barry Bittman, MD, CEO and medical director of Meadville Medical Center's Mind-Body Wellness Center, in Meadville, PA. Mr Pittman talked about recreational music making and its link with a reduction in stress, primarily because of the no pressure environment.
Interestingly, playing recreational Celtic fiddle has helped me to manage stress in various forms, including study preparation for exams, long work hours as a CPA (Chartered Accountant) and moving countries.
HAVE FUN
The main message I am taking away from today's research and my message for you is to have fun when learning to play a musical instrument.
TAKE THINGS FURTHER WITH THE ONLINE CELTIC FIDDLE GURU ACADEMY
I hope that today's article has inspired you to take your instrument playing to the next level and new horizons.
And if you would like to learn more about Celtic fiddle, then book your TUNE-UP consult session below.
Link:https://bit.ly/2NH3wOq
.Colin MacLeod 
.Celtic Fiddle School - Online course, beginners to advanced - start 
.free www.celticfiddleguru.com 
.Facebook Group: https://facebook.com/groups/celticfiddleguru | YouTube: https://www.youtube.com/user/celticfiddleguru