Can I tell you a story?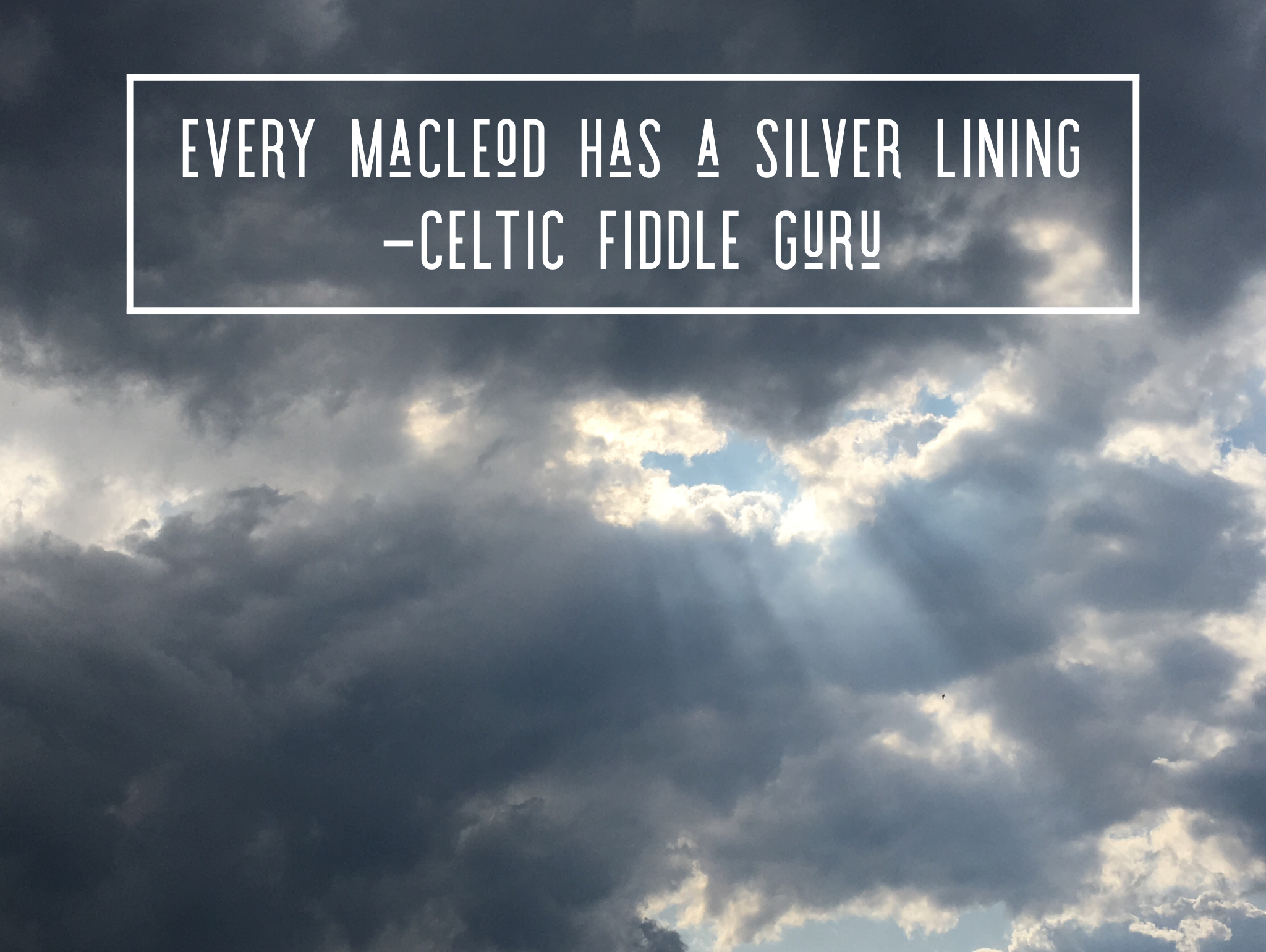 Well, I'm going to anyway! 
There was a power cut in the Richmond area where the cafe is. 
Why? 
Because the weather outside was extremely hot. 
And this meant that inside the cafe, the air conditioning was off and there was only the beeping of the alarm system to heard. 
Really annoying? 
Yes, mightily so! 
People were in despair and business in the cafe had dropped off. 
Guess what I did? 
The answer is really obvious. 
As many of you have experienced, I played some Celtic fiddle music to inspire rather than perspire. 
AND a big announcement was made that 'EVERY MACLEOD HAS A SILVER LINING!' 
WHAT IS THE LEARNING FROM THIS STORY? 
There is always more than one way to look at things and implausibilities can lead to possibilities! 
SO WHAT'S UP MACLEOD 
Celtic Music And Storytelling Concert 
This Friday evening, August 2nd. in Richmond, I am hosting a Celtic Fiddle Music and Storytelling Concert at the Byrd Park Roundhouse. 
Link: http://bit.ly/cfgroundhouseconcerts 
Start time:   7.00pm 
Finish time: 8.30pm 
There will be a chance for everyone to catch up afterwards and also perhaps a Celtic music jam. 
Celtic Fiddle Paddle Boarding Experience 
This Thursday, August 1st, there will be a Celtic Fiddle Recital live from a Paddle Board on the James River in Richmond. 
A slightly unusual place to play some Celtic fiddle and also very inspirational. 
Q: Have you seen any of the recent music videos from the James River? 
Here are a couple of links for you to enjoy 
http://bit.ly/cfgjamesriveroutontheocean 
http://bit.ly/celtic_music_jam_blackbird_island 
That's all for just now! 
I'll keep you posted for developments in August. 
All the best for a really enjoyable weekend! 
As the Irish Tourist Board say, 'You never know unless you go'. 
Wishing you all the best. 
Find out more on Colin's travels and adventures below 
.Colin MacLeod 
.Book Lessons: https://calendly.com/celticfiddleguru 
.Press Kit : https://celticfiddleguru.com/press-kit 
.Celtic Culture and Music Meetup Group: http://bit.ly/celticmusicculturemeetupgroup
.Go Fund Me Campaign https://www.gofundme.com/turn-moments-into-memories 
.Celtic Fiddle School - Online course, beginners to advanced - start 
.free www.celticfiddleguru.com 
.Facebook Group: https://facebook.com/groups/celticfiddleguru | YouTube: https://www.youtube.com/user/celticfiddleguru